New Hebrew-only Machzor: Through the years, ArtScroll has produced several High Holiday Machzorim, yet there has been a demand for a Hebrew-only Machzor with halachos and instructions in English.  Now this need is filled with the release of the new Machzor Zichron Hena (Ashkenaz), which offers many of the familiar features of the popular Hebrew-only siddur, including a crisp, modern type font, Scriptural sources cited, attractive page layouts, high quality paper and a durable binding.  Light in weight yet complete in content, this will become the new Machzor of choice for many.  The Machzor Zichron Hena has also been published in a version with all instructions in Hebrew.  Visit our online Machzor Shop to see all the various editions and binding options available for your next machzor.
Selichos: ArtScroll offers several versions for davening Selichos, including Nusach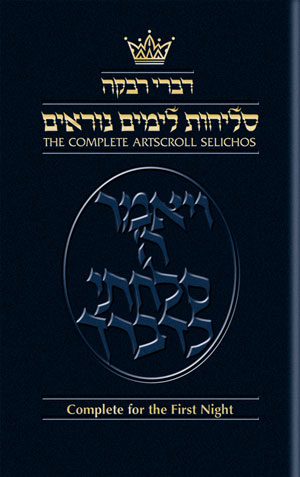 Lita Ashkenaz and Nusach Polin, available in full and pocket size editions.  Selichos: First Night is a small, paperback volume priced under $3.00. 
Insight and Inspiration: For general reading in preparation for the New Year, ArtScroll recommends Rosh Hashanah: It's Significance, Laws, and Prayers, by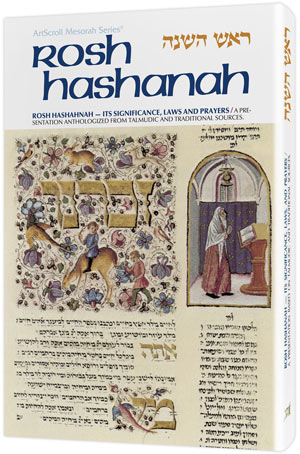 Rabbis Avie Gold, Hersh Goldwurm, and Nosson Scherman. With an anthologized commentary drawn from Talmudic and traditional sources, this brief, single volume presents the essence of Rosh Hashanah in language and perspective satisfying to today's intellectually curious Jew.  The celebrated Yad Avraham Mishnah Series offers a brilliant and complete one-volume commentary on the tractates of Rosh Hashanah, Yoma, and Succah.  Other engaging texts include Days of Awe: Sfas Emes by Rabbi Yosef Stern; The Festivals in Halachah by Rabbi Shlomo Yosef Zevin, offering an analysis of the development of the festival laws, as well as his Treasury of Chassidic Tales – Festivals. Children love to read Rosh Hashanah with Bina, Benny, and Chaggai HaYonah by Yaffa Ganz. 
Holiday Outreach Tools – As a public service to the Kiruv community, ArtScroll distributes two excellent books by outreach professional Rabbi Shimon Apisdorf. Both are well-suited to introduce inquiring Jews to the beauty and power of the High Holiday services.  Published by K'hal Publishing, the first is the classic Rosh Hashanah/Yom Kippur Survival Kit, which has sold over 150,000 copies. Rabbi Apisdorf explains, "It's like having a friend next to you explaining the what and why of the services in clear, enjoyable language."  His second book is the just published Beyond Survival: A Journey to the Heart of Rosh Hashanah, Its Prayers, and Life. A perfect companion to the Machzor, it leads the reader along a path of discovery and personal growth as one progress through the prayers, with a special commentary to unlock the depth and significance of the Amidah.
Filed under: Inside ArtScroll Weekly, New Releases