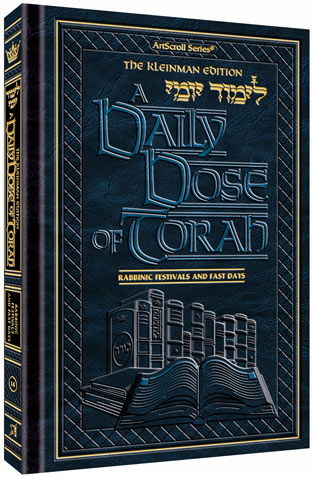 The first series of the Kleinman Edition of A Daily Dose of Torah brought a whole new dimension of Torah learning to tens of thousands.  This simple 18-minute a day program provides rich insights into the weekly parashah, the Mishnah, the Gemara, Jewish prayer (tefilah), Jewish thought (mussar), and Jewish law (halachah).
We are excited to announce the launch of Series Two of "A Daily Dose" – presenting all new content for this next year's Torah reading cycle.   A third series is being planned, as well, likely beginning in 2010. 
Each volume of the Daily Dose features four-five parshiyos of learning material.  For ease, convenience, and staying on track, we recommend you set up a Standing Order, which guarantees you'll receive your next volume automatically to your home or office in time for the next set of readings.  Also, Standing Order customers get a 15% discount on their purchase. 
To see how easy it is to set up a Standing Order for A Daily Dose of Torah, click HERE.
To see the fourteen volumes of Series One in a slip case set, click HERE.
Filed under: Uncategorized