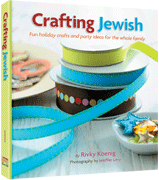 Released just a few short days ago, the first large printing of Crafting Jewish has sold out. That's not a surprise to anyone in the office who was involved in the book. After all, one of our proofreaders, going through the pages of Crafting Jewish, was so taken by what she was reading that she started to follow the instructions she was proofreading – and, together with her children, began making her very own crafts projects for the first time in years.
It's no wonder that this breakthrough book had our proofreader putting down her red pen and picking up a glue stick instead. With its step-by-step instructions, its large variety of techniques, and its gorgeous, full-color photos of more than 120 projects, this is a book that makes Jewish crafts simply too much fun to miss. 
Author Rivky Koenig, a veteran educator and the Crafting Workshop Director at Camp Hedva, has long recognized the importance of crafts in developing our children's self-esteem, as well as our family ties. "Preparing a unique piece of artwork that resonates with a particular holiday helps children and parents bond while expanding their creativity and helping develop their imagination—and there's something beautiful in upholding traditions in such a personal way," she explains.
Crafting Jewish appeals to all ages and all levels of crafting experience. Projects range from simple crafts that need only a bit of glue and a few buttons, that even a four- or five-year-old can do, to more challenging projects for older or more experienced crafters. Techniques include decoupage, fruit decoration, and fabric painting. We learn to work with glass and clay, and enjoy stamping, card-making and scrapbooking. For Chanukah, the family can make a glowing glass menorah, a project that will be featured in Women's Day Magazine's December 2nd edition. Mrs. Koenig has designed these crafts for our busy, time-conscious world, and most can be finished in less an hour. Crafting Jewish also includes unique ideas for holiday get-togethers, with fun-to-make recipes for yummy yom tov treats.
In today's uncertain economy, crafts can be a terrific way to keep our children busy and amused, without having to send them to expensive getaways and activities. Even more important than the dollars-and-cents savings, though, is the wonderful, warm feeling of accomplishment that we – and our children – enjoy, as we create homemade, handmade traditions.
Don't believe me? Just ask our proofreader!
Want to see sample pages of some the great things you and your family can create?  Click here.
Filed under: Inside ArtScroll Weekly