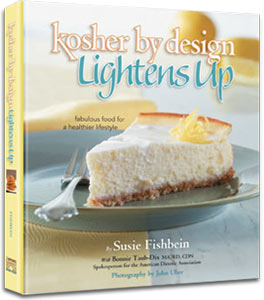 If you're a Jewish homemaker recovering from our annual yom tov feeding frenzy (which includes meal planning, shopping, cooking, serving, cleaning up… and then starting over the next day!) you know that the kugels, soups, roasts and whatever else you've been serving don't magically appear. It takes a lot of hard work to create that elegant table and all that terrific food.
The same holds true for Susie Fishbein's stunning cookbooks. The first five in the Kosher by Design series broke every sales record for kosher cookbooks – and also broke through the prejudice that kosher cooking couldn't be gourmet gorgeous.  Now, the "Susie Revolution" joins today's health and nutrition revolution in Kosher by Design Lightens Up.
The hard work of making a cookbook begins early, says Susie. "When I start thinking about a book (usually when I am deep in my previous book) I start making lists that include foods I want to eat. What have I eaten in a restaurant that I want to recreate in my home? What new ingredients have I come across? For this book I had to take a cold, hard look at what I was cooking to see what I wanted to improve on from a health perspective."
Taking that "look" at the recipes together with Susie was Bonnie Taub-Dix, spokeswoman for the American Dietetic Association and award-winning nutrition consultant. "Bonnie added a key layer to this book," Susie explains. "She commented on every single recipe, pointing out areas that could be lightened up. She confirmed to me that the philosophy of this book was the right one – forget diets, learn what is good for your body, work change in slowly, and eat what you love."
So what do you get, when Susie's gourmet eye combines with top nutritional standards? How about some great Citrus London Broil? Or Healthy Deli Rolls and Un-fried Chicken? There's Green Tea and Applesauce Cake, Tex-Mex Turkey Meatballs, Thai Chicken Soup, Cranberry Couscous. You learn the health benefits of many foods, some familiar, some new and daring: agave nectar, almonds, polenta, blueberries, and –yes! – chocolate.
KBD Lightens Up includes 145 recipes, 160 full-color photos, nutrition information and tips. The only thing missing, says Susie, is chocolate chip cookies. "It just could not be done. I tried eight times, but there was no getting over the need for butter or margarine. I sadly accepted defeat."
But don't worry: there's always pistachio-cherry biscotti instead.
For a look at the table of contents and some super-yummy recipes, click here.
Filed under: Inside ArtScroll Weekly, Susie Fishbein News!