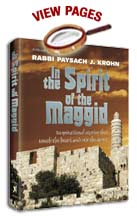 Six years is a long time to wait for something you really want. It's been a long six years for the tens of thousands of readers of Rabbi Paysach Krohn's famous "Maggid" books, as they impatiently awaited still another unforgettable collection of true stories by the "American Maggid." 
Now the wait is finally over: In the Spirit of the Maggid, seventh in the bestselling series, is finally here.
So what took so long?
"It's not that I was sitting around doing nothing," answers Rabbi Krohn, with the trademark warmth and humor that have endeared him to audiences throughout the world. In that time Rabbi Krohn authored Traveling with the Maggid, a magnificent, full-color coffee-table size book that takes the reader on a memorable journey through Eastern and Central Europe's Torah centers. He produced three interactive CD-ROMs on the yeshivas and communities of Eastern Europe, with Chananya Kramer of Kol-Rom Multimedia, as well as an interactive CD-ROM on "Meah Brochos" and "Designer Perfect: The miraculous workings of the human body," all available from ArtScroll. He delivered hundreds of speeches and, of course, as one of New York's preeminent mohelim, was constantly busy with brissim.
And, he adds, he was busy collecting material for this new book.
Just take a look at Rabbi Krohn's passport, and you'll see why In the Spirit of the Maggid is like no other book of its kind. The passport is thick with "supplementary pages," bearing stamps and visas from country after country. No wonder, then, that, as he says in his introduction, the stories come from "Australia, Baltimore, Chicago…" and down the alphabet through "…Vienna, Williamsburg, Yerushalayim, and Zichron Moshe." (The only letter missing is an "X"!)
But this is no travelogue; this is a collection of stories that touch the heart and inspire the soul. There are stories of sages whose names are as familiar to us as our own and stories of anonymous heroes whose exploits leave us breathless. Stories that shock and surprise, stories that ignite our determination to be the best people we can. These stories take us inward, into our own lives; they take us outward, as we learn from others. And they take us upward, strengthening our connection to the One Above.
At last, In the Spirit of the Maggid is here. And it was well worth the wait.
Filed under: Inside ArtScroll Weekly, New Releases, Non-Fiction