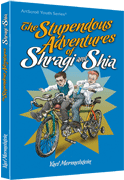 Talk about focus groups and market research! On a recent visit to the U.S., Yael Mermelstein, author of the newly-released The Stupendous Adventures of Shragi and Shia, spoke to 250 young people, in lectures given in several New York area schools.
So we asked her, "Yael, what are kids looking for in a book?''
"They want mystery," she told me. "And lots of adventure, and humor. Most of all, the kids I surveyed want 'a story that's interesting.'"
The good news is, giving the kids "a story that's interesting" for this Chanukah couldn't be simpler. If the children are ages 7 – 12, offer them a new friendship, with the inimitable Shragi & Shia. These are two brothers who get into the most unusual – dare we say outrageous? – adventures, involving things like a homemade bicycle-built-for-four,  exploding science projects, and vats of liquid toffee. Shragi and Shia mean well, it's just that…somehow…things always seem to get a little out of control when they're around. With its short, laugh-out-loud stories, its gently-delivered messages, and its wonderful black-and-white illustrations, The Stupendous Adventures of Shragi & Shia makes a terrific Chanukah gift for your child and, more important, is a great way to introduce any reader (even the reluctant ones!) to the joys of a good book.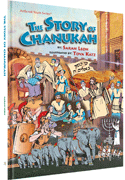 The Story of Chanukah by Sarah Leon is a marvelous way to introduce younger readers to the wonders of the holiday, and the wonders of reading. This lavishly illustrated picture book brings a fascinating era of Jewish history to life. The decrees of wicked King Antiochus, the courage of Jews who stood up for their beliefs, the dreidel-playing youngsters who used their toys to fool the Syrian-Greek soldiers – children will relive it all as they pore over the innovative pictures that combine real-life backgrounds with adorable, evocative illustrations. Divided into eight chapters, one for each night of the holiday, the read-aloud rhymed text, with its combination of high drama, humor, and history, will enchant any young (or not so young) person.
So what are you giving the kids for Chanukah this year?  Clothing? They'll outgrow it. Electronic gadgets? Obsolete by next month. If it's a puzzle, they'll lose its pieces; if it's a drum set, you'll lose your mind.
But a book? Give children a book, and you've given them the gift of imagination. The gift of words. And the gift of reading, that lasts a lifetime.
_______________________________________
Filed under: Inside ArtScroll Weekly