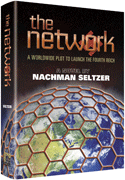 It's a hard call to choose my favorite from among the many beautifully-delineated characters in The Network, Nachman Seltzer's new mega-novel published by Shaar Press. Kobi Shapiro, the Nazi-hunting Mossad agent, is wonderfully grim and determined. Or how about Jason Frost, the priest whose past is a blank? Then there's Mordy Kahane, who found his Jewish heritage on a Little League baseball field, or the saintly Kolodover Rebbe, whose blessing given in pre-war Poland will have ramifications five decades later.  And if your taste runs to villains, there's the incredibly nasty Eberhardt family, with their incredibly nasty, but effective, plans for world domination.
But if forced to choose, my absolute favorite would be Reb Zack, the fast-talking, big-hearted, and perceptive rebbe in a Jerusalem kollel whose friendship with Mordy forms one of the centerpieces of this engrossing, thrill-packed novel.
Which is why it comes as no surprise when author Nachman Seltzer tells me, with a laugh, "Zack is me, kind of."
Like Reb Zack, Nachman Seltzer combines exuberance and perceptiveness, with a strong leavening of writing talent.  His gift of words was clear early on. "My mother read me tons of books," he remembers, "and in Torah Vodaas I was always copping the creative writing awards." The talent that has been displayed in several popular thrillers and in his many dramatized non-fiction stories is particularly apparent in this hugely readable, can't-put-it-down novel.
What characterizes The Network is its vast variety of characters and settings (5 countries, 6 decades, and at least two dozen unforgettable characters). "I'm always looking for the ultimate in characters," Nachman says. "The ultimate rebbe, the one you'd want to be close to. The ultimate agent. Even the ultimate villain: my bad guys have to care about what they do. I want to write about people who are amazing, who have big plans and want to accomplish."
In The Network, with its heart-thumping, page-turning excitement, its surprise-after-surprise plot twists, and, yes, its subtle but important messages of faith and Divine Providence, Nachman Seltzer has, indeed, created the ultimate novel.
Click HERE to listen to an interview with the author on Olam Radio.
Filed under: Fiction, Inside ArtScroll Weekly, Novels