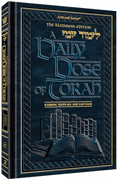 When the first series of A Daily Dose of Torah appeared, it created a learning revolution in tens of thousands of people's lives. They discovered that they could find the time in our overwhelmingly overscheduled world for serious, rewarding Torah study.
Here's how A Daily Dose of Torah works: Every volume offers a daily learning program that includes six important elements. We begin with a thought on the week's Torah portion, followed by a selection from the Mishnah, with text, translation and a concise commentary. "Gems from the Gemara" presents some of the Talmud's discussion of the daily Mishnah. The program then proceeds to a Mussar thought to stimulate personal growth, a daily halachah, and a closer look at the Siddur. As a special once-a-week treat, "A Taste of Lomdus," offers a brief but in-depth discussion of a Talmudic topic.
Each beautifully-bound, hardcover volume includes 28 days of study, with every day's learning designed to be completed in about eighteen minutes. Volumes can be purchased separately, or through a standing order that ensures that participants will get their books two weeks before the study period begins, at a special discount. Just released is the new volume that includes the weeks from Parashas Shemos to Beshalach.
The Daily Dose study program is a great idea that became a phenomenon, as more and more readers joined up. Commuters find it the ideal companion. Busy professionals who can't find an extra minute suddenly discover the time for learning  – before or after minyan, waiting for a chavrusah to show up, or during a lunch break. Others make a set time in the evening, offering an important example for their children, helping transform their homes into a bastion of Torah.
In today's economy, who doesn't want a huge return on an investment? It may not happen in the stock market, but with Torah learning even a small investment nets giant returns. So here is the latest investment "tip" that we're recommending: ArtScroll's A Daily Dose of Torah, now in its second series. Thousands have learned that by investing eighteen minutes a day in A Daily Dose of Torah they reap the eternal rewards of Torah wisdom. Shouldn't you be one of them?
Filed under: Uncategorized