Imagine a NASA engineer who is also the perfect, patient teacher of tenth-grade algebra. Or a gourmet chef at a five-star restaurant, whose burgers on the grill are wildly popular at backyard barbeques. Now consider someone who really exists: a world-class psychiatrist who successfully treats difficult behavioral and personality disorders, who also instructs, inspires and, most of all, touches people whose homes and lives are models of stability. There you have him, one of ArtScroll's most beloved authors: Rabbi Dr. Abraham Twerski, whose newest book,  Four Chassidic Masters, has just been released in the popular PocketScroll format.
How, I wondered, can a man work so successfully on two such different levels? How can he relate to – and heal – people with lifetime addictions, and at the same time understand "everyday" people's concerns? I got one answer from Rabbi Twerski himself. He told me about a letter he received:  "I can't believe it, I had a difficult problem, and when I read the portion of Living Each Day for that day, it addressed that particular problem. How can you have foretold that?" Rabbi Twerski's answer? "Living Each Day is comprised of Torah literature. Torah is timeless. Had your problem occurred on another day, that day's reading would have addressed your problem just as well."
The first answer to my question, then, is Torah. In his more than forty books Rabbi Twerski writes about many things: self-esteem, Shabbos, marriage, life's meaning, Chassidic tales, clinical depression… the list goes on and on. But whether it's his Wisdom Each Day, Getting Up when You're Down,  or Twerski on Chumash, every word is rooted in Torah's eternal truth.
I found another answer in Four Chassidic Masters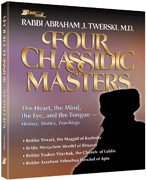 . One of the rebbes profiled in this absorbing new book is Rabbi Twerski's direct ancestor, Rav Avraham Yehoshua Heschel of Apta.  The Rebbe of Apta was famous for his chesed, his kindness to others. At his request, his tombstone bore only his name and the legend "oheiv Yisrael" – one who loved the People of Israel. The apple, says the Yiddish saying, doesn't fall far from the tree. Rabbi Twerski's love for his fellows and concern for their welfare underlies every book he has written. This love, coupled with his unparalleled understanding of people and how they can elevate themselves, includes everyone, and so can reach everyone.
Torah, and love for others. That's the combination that makes Rabbi Twerski's books unique, and beloved.
Filed under: Uncategorized