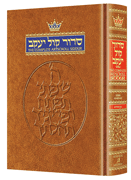 The scene is repeated every Shabbos, hundreds of thousands of times: In grand architectural edifices and tiny storefront minyanim, in shtieblach and synagogues and shuls, Jews are praying and listening to the holy words of Torah – and they're holding an ArtScroll Siddur and an ArtScroll Chumash in their hands.
The words of the Torah and of our prayers are eternal – but books are not. After years of daily synagogue use, after thousands of hands have turned their pages, Siddurim and Chumashim begin to show their age.
And that is why ArtScroll is making an exclusive "upgrade" offer to help shuls replace their aging Hebrew-English Chumashim and Siddurim at an extraordinary price.
If you're a shul president or administrator – or a loyal member — check this offer out:  You can replace your worn out Hebrew-English Chumashim and Siddurim – from any publisher, not just ArtScroll –  with a brand new ArtScroll Hebrew-English Chumash or Siddur with an extra durable reinforced binding and save 50% off the retail price!
Here's how it works. The synagogue cuts off the front cover of its worn Hebrew-English Siddurim and Chumashim and sends them in to ArtScroll or gives them to an authorized Judaica retailer. (To participate in this special offer a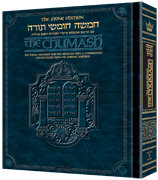 minimum of 25 covers must be sent in.)
Upon receipt of the covers, ArtScroll will send the same number of brand new reinforced ArtScroll sefarim at 50% off the list price!
For every worn out Chumash cover sent in, the synagogue can order a Stone Edition Chumash. Worn out Siddurim can be exchanged for the Classic Complete Hebrew-English ArtScroll Siddur or the RCA Complete ArtScroll Siddur,  both with reinforced bindings – and all at half price! This is an unparalleled opportunity for shuls to restock.
For individuals or shuls that want to order additional ArtScroll Chumashim and Siddurim, ArtScroll is making another exciting offer. It's been thirty-three wonderful years since ArtScroll was founded, and to mark the event ArtScroll is offering a 33% discount on selected editions of its Hebrew-English Siddurim and Chumashim.
So there you have it. For three weeks only (January 28 – February 17), two great ways to join the millions who have made their tefillos and Torah study more meaningful through the ArtScroll Hebrew-English Siddurim and Chumashim.
For more information on these exciting offers, call 1-800-MESORAH, ext. 216 or 233.
Filed under: Inside ArtScroll Weekly