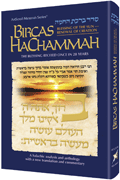 On erev Pesach this year,  the Jewish People will have an opportunity to make a berachah that happens, not once a year, not even once a decade – but once every twenty-eight years. For a few short minutes, we will gaze up at the sky and see the sun in the same place, on the same day of the week, at the same time of the day, as it was when Hashem first hung it in the heavens. We will openly proclaim Hashem as the Creator, and thank Him for the blessings of the universe He created for us.
To ensure that we take the fullest advantage of this brief but precious moment, we must prepare for it. And what better way than to study the halachos, the Talmudic background, the history and the hashkafah of the blessing? What better way than to read and study Bircas HaChammah, newly-revised and released by ArtScroll?
Written by noted rosh yeshivah and posek Rabbi J. David Bleich, with an Overview by Rabbi Nosson Scherman, Bircas HaChammah brought this rare mitzvah to the attention of the Jewish world 28 years ago, selling over 70,000 copies. The new edition is updated and greatly expanded, with over 80 pages of  material added, as well as the zemanim  for saying Bircas HaChammah in more than 150 cities, both in the U.S. and internationally.
Bircas HaChammah explains the astronomical calculations, illuminates the Talmudic background, and includes the complete prayer service for Bircas HaChammah, with translation and commentary. It offers a brilliant explanation of the workings of the Jewish calendar, giving us a new appreciation of its incredible precision. We are astounded and awed by the profound knowledge of astronomy that our Sages possessed 1,800 years ago. And we learn how to use this event to strengthen our belief in a Creator and our understanding of our place in His Creation.
This rarest of berachos takes only a few short minutes, and then we have another 28-year wait. Let's make sure we take full of advantage, by preparing ourselves properly to thank Hashem for His creation.
Filed under: Inside ArtScroll Weekly