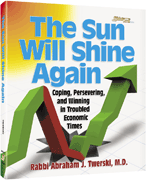 We don't need to see the graphs or read the financial news to know that times are hard. We just have to look at the face of a neighbor who's been laid off. We hear of individuals struggling to put food on the table or venerable Torah institutions buckling under the weight of unpaid bills, and we know that the economic downturn isn't about statistics, it's about people like us.
How do we cope? As believing Torah Jews, we turn to Hashem in prayer, asking for help in troubled times. At the same time we look for inspiration, strength, and, yes, practical strategies to get us through. The Sun Will Shine Again: Coping, persevering, and winning in troubled economic times by Rabbi Abraham Twerski MD will help us not merely struggle through the financial crisis, but turn its challenges into a process of growth and self- discovery.
In The Sun Will Shine Again, Rabbi Twerski shows us how to put economic woes into perspective, how to avoid both the dangers of denial and the pain of despair. He shares with us practical strategies to keep our homes rich in happiness and meaning, if not in cold cash. We learn to see the changes in our lives not as death knells but as wakeup calls. He discusses specific stress reduction techniques, and alerts us to the perils of taking out financial problems on our spouses or children. How do parents tell a child they can't afford to send her to Israel for a year in seminary? What happens when a man no longer comes to shul, because he is ashamed that he can't afford to give the large donations of the past? How does a person deal with stress-induced insomnia? The Sun Will Shine Again deals with many real-life issues that the financial situation has brought about, and teaches us how to surmount the challenges we face today.
Filed under: Inside ArtScroll Weekly