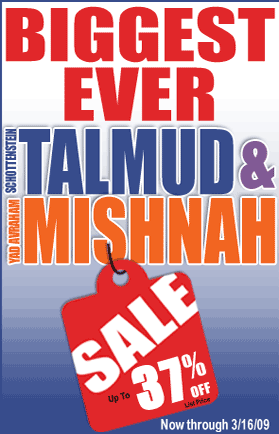 It is hard to put a dollar and cents value on quality. Yet in today's harsh economic environment, we look to get the highest possible value for the lowest possible cost.
There are few things more valuable than wisdom, and nothing is worth more than Torah. For the next three weeks, ArtScroll offers its readers the opportunity to acquire that wisdom at an unprecedented price, with its biggest-ever Talmud and Mishnah Sale.
The Schottenstein Edition of Talmud Bavli, created under the guidance and with the approbation of gedolei hador, was a monumental undertaking that has been hailed as one of the greatest achievements in the history of Jewish publishing. One of the most extraordinary aspects of its 73 volumes is the fact that it offers so much to such a wide range of people. With its diagrams, vowelized text, introductions to the tractates and individual topics, and, of course, its lucid and flowing translation, it unlocks the vastness of the Talmud to beginners. At the same time, scholars and accomplished students of Gemara find clarity and explanations that enrich and enlighten their study. Sixteen years in the making, the Schottenstein Edition of the Talmud has gained world-wide acceptance, transforming the lives of tens of thousands of people who have made Talmud study a vital part of their day.
ArtScroll/Mesorah Publications Ltd. now offers readers this vast treasure house of Torah at an unprecedented price. The full 73-volume set, with its generous 9" x 12" page size, regularly sells for $2,999.00. But for the next three weeks it can be purchased for only $1,999, a savings of $1,000 off the regular list price! The Daf Yomi-size set, which includes every word of the full-size edition in a more compact 7"x10" size, is on sale for $1,475, instead of its usual $2,200. Individual volumes of the full-size set are available at the sale price of 3 volumes for $99 (regular list price: $150), with 4 volumes of the Daf Yomi-size for only $99, a savings of $50 off the regular price.
The incredible savings are not limited to the English-language Schottenstein Edition of the Talmud. For those who prefer to study in classic Hebrew, the Schottenstein Talmud Bavli Hebrew volumes also on sale: 4 full-size volumes are $99 (regular list price: $140) and 5 Daf Yomi size volumes can be purchased for $99. The Talmud Yerushalmi English Edition, another treasury of Torah wisdom that has finally been unlocked, is included in the sale, with 4 volumes for only $99. In addition, the Yad Avraham Mishnah is also available at a special sale price of any 3 volumes for $49 (list price: $78.)
This is a once-in-a-lifetime opportunity to bring the very highest value — the eternal wisdom of Torah — into our shuls, institutions, and homes, at the lowest possible cost.
Filed under: Inside ArtScroll Weekly