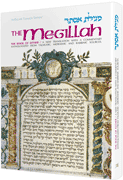 Purim is indeed a time of plenty. Plenty of noise and fun, plenty of food and wine (remember: drink with care – and this year, especially, give plenty of matanos l'evyonim, gifts for the poor!). There's more to the holiday plenty, though, than eating and drinking – there is a rich lode of scholarship and tradition that makes this holiday one of the most beloved, and meaningful, in the Jewish calendar.
It's not only our tables and mishloach manos baskets that are filled with good things. Our bookshelves, too, are full of the message of faith and hashgachah that Purim teaches so clearly. The ArtScroll library of Purim reading offers something for everyone to make the day truly special.
Megillahs: From the classic ArtScroll Megillas Esther by Rabbi Meir Zlotowitz — the very first ArtScroll publication, that launched a revolution in the translation of classic Jewish works — to the Family Megillah and the Schottenstein Interlinear Megillah, ArtScroll's collection of Megillahs offer flowing translations, graphics that enhance readability, and the scholarship and wisdom of commentators throughout the ages, in a large variety of sizes and formats to suit every need.
Kol Dodi on Megillas Esther: Rav Dovid Feinstein, one of the premier halachic authorities of our generation, teaches the Megillah.
Purim: Its Observance and Significance: Part of the acclaimed ArtScroll Holiday Series, featuring insights, laws, and an explanation of the Megillah and the Purim prayers.
The King's Treasures: An enlightening commentary on the Megillah by Rabbi Eliezer Ginsburg, an outstanding scholar and teacher.
Let My Nation Live: A retelling of the Purim story, as if it were a novel – but this spellbinding book is true!

Purim is every kid's favorite holiday, and the ArtScroll books designed for young people give it an extra dimension. The enchanting ArtScroll Children's Megillah and the beautifully illustrated Youth Megillah both bring the story to vivid life. Even the littlest can take part, as they travel to Shushan with Purim with Bina, Benny and Haggai HaYona.
When the table has been cleared and the dishes washed; after the baskets have been recycled and the cellophane and ribbons gone into the trash; when the masks are put away for next year and the last clown's makeup has been washed off – what remains of Purim is the message of Hashem's care for us, and the wisdom and understanding that we've gained from our Purim reading.
Filed under: Inside ArtScroll Weekly, Uncategorized