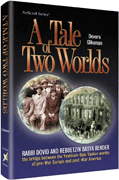 We like novels for their excitement and readability, and for the way we can get inside the characters' thoughts and emotional lives. We enjoy biographies because learning about unusual and productive people can inspire us to greatness. And we read history books because it's important to know where we came from and what has happened before our times.
In A Tale of Two Worlds: Rabbi Dovid and Rebbetzin Basya Bender, we have the rare opportunity to combine all three reading experiences: a biography of two inspiring personalities, set against the fascinating historical backdrop of pre-war Europe and post-war America, that reads with the vivid intensity of a great novel.
"My goal was to make a non-fiction world come alive, to make it a story rather than a dry biography," explains Mrs. Devora Gliksman, author of this 650 page tour-de-force. "I wanted to show real people experiencing real life."
To achieve that goal Mrs. Gliksman first had to unearth the kind of details that bring people and places to life. She conducted more than 150 interviews with people who'd known the Benders throughout their achievement-filled lives. "People were so anxious to share their memories," she says. "They'd say: 'The Benders? Let me tell you a story…'" She drew upon archival material and the family's extensive collection of letters to help paint a picture of two remarkable people who nurtured a new generation in America based on the Torah values they had absorbed in Europe: Rabbi Bender, an educator in Yeshiva Torah Vodaath, and Rebbetzin Bender, a pioneering teacher in the Bais Yaakov movement.
  "These were real people experiencing real life," Mrs. Gliksman says. The book portrays Rebbetzin Bender, with no warning suddenly left a widow with a family to raise, as a strong, indomitable woman – but a human one, a bereaved widow who never passed a yom tov without shedding tears. We read of the Bender family's incredible accomplishments, but also of their challenges and growth.
"I wanted to let the reader feel what it was like then, to let them live the story," says Mrs. Gliksman. With its absorbing biographical sketches of the many people whose lives intersected with the Bender family, its moment by moment details of the Bender's multi-faceted lives, and its poignant and sensitive rendering of the challenge of living Torah lives in difficult times, A Tale of Two Worlds has certainly reached that goal.
Filed under: Inside ArtScroll Weekly