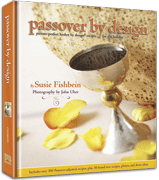 The day after Purim, my grandmother used to say, is erev Pesach.
Guess what? It's here.
As we gear ourselves up to prepare for the upcoming Passover holiday, one of the more daunting items on our "to do" list is menu planning. This year the first seder falls on a Wednesday night – which means, for those outside Israel, serving six holiday or Shabbos meals in a row. Trying to make meal after meal elegant, nourishing, and memorable – and, of course, chametz-free — is a challenge for even the most creative cooks.
The secret to successful Passover meal planning is to add just one more vital, and pleasant, task to our to-do list: consult with Susie Fishbein.
When Passover by Design, Susie's gorgeous Pesach cookbook, debuted last year, it caused a sensation, selling more than 40,000 copies.  Passover by Design brought the trademark simplicity of preparation and elegance of presentation of the bestselling Kosher by Design series to the Pesach holiday, creating a delicious revolution in tens of thousands of kitchens.
With thirty brand-new Pesach recipes, and 130 more KBD recipes especially reformulated for Pesach ingredients, Passover by Design offers cooks an extraordinary range of ideas. Start the meal with something as exotic as pistachio chicken skewers with blackberry sauce, or give a classic a new twist with tri-colored gefilte fish. Lamb chops with parsley pesto or balsamic brisket with shallots and potatoes will leave your guests wide-eyed, and warm runny chocolate soufflé certainly beats canned macaroons and tea as a dessert! From matzah brei to matzah primavera, Passover by Design has ideas for meal, after meal, after meal.
It may seem early – we're still cleaning up the Purim leftovers, after all – but the time to start is now.  "The key is in planning your menus on paper, well in advance," Susie says. "Once you see it on paper you can be assured that you not over-planning and you can start getting organized, so you don't buy ingredients you don't need, and stock up nice and early on what you do need."
With the proper planning, a lot of patience and, of course, Passover by Design at your side, meal planning and preparation (not to mention the food!) will be a delicious delight.
Filed under: Uncategorized