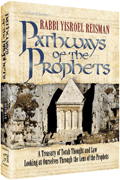 Rabbi Yisrael Reisman's motza'ei Shabbos shiur on Navi is arguably the best-attended Torah lecture in the world. Begun in 1986 with a dozen men sitting around a table, today it is seen and heard worldwide, with countless participants either joining him live in Flatbush, or watching it on satellite hookups or web streams. The shiur was begun by Rabbi Reisman and Pirchei Agudas Yisrael in order to "bring motza'ei Shabbos to Saturday night." Now, with the release of Pathways of the Prophets, Rabbi Reisman's masterful new book, we can do even more: we can bring motza'ei Shabbos into our lives, seven days a week. 
 Who else but Rabbi Reisman can take the little-known Chassidic concept of personal exile and turn it into a discussion of how a Jew acts during business trips? (Airline lost your luggage again? See how the Vilna Gaon reacted in similar circumstances…) Where else but in his Navi shiur would we learn a lesson in in-law relationships from Yehoshafat, King of Yehudah, and his murderous daughter-in-law, Ataliyahu?
Pathways of the Prophets includes hashkafah shiurim, dealing with the spiritual challenges of everyday life, and halachah shiurim, presenting unusual topics to expand the readers' knowledge of Torah. An entire section is composed of the shiur's famed "Imponderables," the fascinating questions – and even more fascinating answers – that Rabbi Reisman occasionally poses to generate discussion and thought, such as: can we ever eat kosher giraffe meat, who is the woman whose name appears the most time in Navi (you'll never figure this one out!), why is rosh chodesh sometimes one day and sometimes two… and on and on.
Rabbi Reisman's motza'ei Shabbos shiur changed the way we begin our week. Now, Pathways of the Prophets will change the way we live it.
Filed under: Inside ArtScroll Weekly