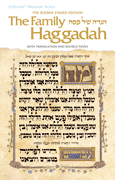 Let's face it: Though Passover is one of our most beloved holidays, it doesn't come cheap. Even as the economy remains in freefall we're facing soaring expenses for food, cleaning help, and clothing for the holiday.
Here's some good news for people who want to serve the very best at their Seder table and yet keep things economically priced: you can do it, at least when it comes to one of the most important components of the Seder – the Haggadah. ArtScroll offers several beautifully-designed Haggadahs at prices so reasonable that all your guests can enjoy them, no matter how crowded your table. There's a low-priced ArtScroll Haggadah for every need and background:
The Family Haggadah: With more than a million copies in print, this is the most popular Haggadah of all time. Its elegant graphics and clear instructions make it a perennial favorite, and its retail price of $2.25 make it a great budget choice.
The Schottenstein Edition Interlinear Haggadah: Available for just $4.99 list price, this Haggadah uses ArtScroll's unique, patented interlinear format. Readers see the original Hebrew and English translation simultaneously, allowing them to focus on the beauty of the Haggadah itself.
The Seif Edition Transliterated Linear Haggadah: The line by line transliteration, accompanied by translation, enables those less familiar with Hebrew to fully participate in the Seder. With a list price of $4.99, this Haggadah will make everyone feel at home at your Seder, even those with limited background.
The Illustrated Youth Haggadah: For under $7.00, you can keep the youngsters interested and engaged throughout the long evening. With its gorgeous full color pictures, simplified translation and instructions, and kid-friendly comments, this makes a great pre-afikomen gift!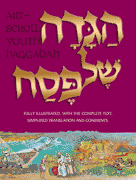 This Passover night, millions of Jews will be sitting down to their beautifully-set Seder tables. And ArtScroll will be there, with a Haggadah that will allow them to enjoy the beauty of the holiday, at the right price.
.
Filed under: Inside ArtScroll Weekly, Uncategorized