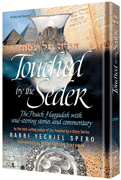 There are many numbers that we associate with Pesach: 210 years of slavery, 10 plagues, 70 Israelites coming into Egypt and 3 million leaving in less than 18 minutes. During the Seder, too, we find many numeric motifs: four cups, four sons, four questions… three matzahs… and, of course, "who knows one?" ArtScroll has another number associated with Pesach. That number is two million – the number of ArtScroll Haggadahs that have graced the Seder table of the Jewish People since the publication of the first ArtScroll Haggadah.
In a previous post we looked at ArtScroll's selection of economical haggadahs, which include elegant and readable graphics, flowing translations, clear instructions, and short comments to enrich the Seder. For those who want more extensive commentary and a deeper look at the meaning of the holiday, ArtScroll offers a wonderful and varied selection of Haggadahs. Here's just a sampling:
The Haggadah: ArtScroll's very first Haggdah, with commentary by famed educator Rabbi Joseph Elias, this classic Haggadah has been adding a new dimension to the Seder since 1977.
The Haggadah with Answers: This fascinating volume brings the answers to over 200 thought-provoking questions, drawing from a wide range of classical sources.
 Touched by the Seder: A unique Haggadah by Rabbi Yechiel Spero, this bestselling Haggadah combines a commentary that draws on classic sources and contemporary insights with Rabbi Spero's trademark, soul-stirring stories.
From Bondage to Freedom: World-renowned psychiatrist Rabbi Dr. Abraham J. Twerski blends the worlds of Torah and science together in this brilliant and unusual Haggadah.
 Through the Prism of Experience and History: Rabbi Berel Wein – historian, lecturer, rabbi, rosh yeshivah, producer and, of course, bestselling Art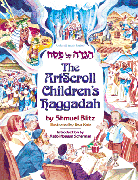 Scroll author — is unique, and so is his delightful and provocative coffee-table sized Haggadah.
To keep our children interested and engaged through the long evening, ArtScroll offers The Children's Haggadah, Shmuel Blitz's charming Haggadah for youngsters, which includes the full Hebrew text of the Haggadah, a child-oriented yet accurate English translation, fascinating facts, easy-to-understand instructions, and breathtaking illustrations that bring the Exodus to life.
This Pesach eve, millions of Jews will be sitting down to their beautifully-set Seder tables. And ArtScroll will be there, with a Haggadah that will allow them to enjoy the beauty of the holiday.
Filed under: Uncategorized