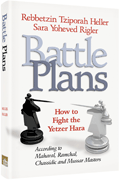 Rebbetzin Tziporah Heller and Sara Yoheved Rigler, those two women of peace, are now two women at war. It's a war against the enemy within – the yetzer hara, the inclination towards bad choices and negative behavior that lurks within us all. Their battle strategy doesn't come from West Point or war games; it is culled from the Jewish Sages. Their new book, Battle Plans: How to Fight the Yetzer Hara combines profound scholarship, a deep understanding of human emotions, and a lot of marvelous true stories.  Drawing upon the wisdom of the Maharal, the Ramchal and Chassidic and mussar masters, the authors examine what the Torah has to say about battling our evil inclination and adapt this wisdom into 54 "battle plans," practical strategies to incorporate into our lives.
Battle Plans is a book by two unusual women, unlikely generals in an eternal battle. Rebbetzin Tziporah Heller has taught, and touched the lives, of tens of thousands of women, in her classes at Neve Yerushalayim, through her books and newspaper columns, and through her speeches, given worldwide. Sara Yoheved Rigler, author of the bestselling Holy Woman, is one of the most gifted writers in the world of Torah literature today.
To make Battle Plans even more effective, the book includes a laminated "Battle Plans Quick Rescue Guide," which refers readers to the strategy best suited to deal with the test they are facing. Feeling jealous? Angry? Despondent? The Rescue Guide will point you to the strategy best suited to deal with the test, giving you the Torah's eternal "weapons" that will help you battle the yetzer hara.
"The real measure of our spiritual level," says Mrs. Rigler, "is not how we do when we're doing great, like when we're davening at the Kotel, it's how we deal with our tests. The yetzer hara attacks, and we have to hold our own and not lose it. Judaism is full of ideas on how to fend off the yetzer hara; Battle Plans extracts them and puts them into our hands."
Click HERE to download the Quick Rescue Guide PLUS a complete chapter from this amazing book!
Filed under: Uncategorized