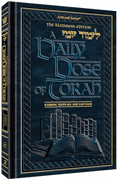 If you haven't yet joined the thousands who have made ArtScroll's Kleinman Edition A Daily Dose of Torah study program an integral, and much welcomed, part of their day, you may not realize just how far eighteen minutes can go.
So what, exactly, can you learn in eighteen minutes – the time it takes to study one day's worth of learning in A Daily Dose of Torah?
Let's look at just one day in the edition that covers the four weeks from Parashas Tzav to Parashas Metzorah.
We begin with a question on a specific, and unusual, word – tzav (command) — in the week's Parashah. The commentators discuss why the kohanim are here "commanded" to offer a sacrifice, as opposed to other places where they are just "told" to do so, and their explanation revolves around the monetary costs of a mitzvah.
We will further examine the question of the monetary costs of a mitzvah in our entries on Mussar and the Siddur, but first we take a journey into the fascinating world of the Mishnah. Today, we learn whether or not a father and son can both testify as witnesses to the New Moon. In our entry on the Gemara we continue to study the issue, following an intricate argument between Rav Huna and Rav Chanan Bar Rava, until we see the Gemara's final conclusion.
Now that we've studied our Mishnah and Gemara we return to the day's theme, on the monetary value of a mitzvah, this time seeing the question through the eyes of the masters of Mussar. Money can actually enhance the holiness of a mitzvah, if used properly; here, we learn why this is so.
Next is our lesson in halachah, where we study the laws of kashruth. And then we return to our theme, this time examining it through the prism of the Siddur. Can a person miss davening with a minyan if doing so will result in a monetary loss to him? Just how much is a mitzvah worth?
You've read through your "daily dose" — Parashah, Mishnah, Gemara, Mussar, Halachah, and Siddur — and it's taken only eighteen minutes. And you've used those eighteen minutes in the best way possible – learning Torah!
Filed under: Inside ArtScroll Weekly