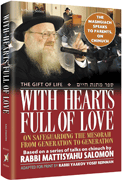 When approached to have a book written based on his hundreds of audio tapes, Rabbi Mattisyahu Salomon, the revered Mashgiach of the yeshiva in Lakewood,  chose the subject of raising children in accordance with the Torah. The book, With Hearts Full of Love, is based on a series of lectures given on the topic over the course of a year and a half. Rabbi Yaakov Yosef Reinman, who has learned with Rav Salomon for many years and who combines exceptional scholarship with brilliant literary ability, undertook the challenging task of adapting hundreds of hours of tapes into book form. The result is a work that gives parents both principles and specific guidance in how to properly fulfill the mitzvah of chinuch, of raising and teaching our children; a book that teaches us how to instill in them the mesorah, the tradition handed down from Sinai.
Principles: Rav Mattisyhau shows how to instill love, how to create respect, and which of the two must come first. We learn how to discipline our children, how to teach them values and give them faith. And specifics: • Dealing with homework. ● Making the Shabbos table a positive and happy place. • When, and how, to start teaching mitzvah observance. ● Finding the best – and identifying the worst – toys and games for children. In these pages we will meet colicky babies, energetic toddlers, moody adolescents – and puzzled parents, trying to raise their children in an increasingly challenging environment. 
 In today's world, every parent needs a mentor, a wise, patient, and experienced person to help guide them to successful childrearing. In other words, we all need the Mashgiach to show us how to raise our children With Hearts Full of Love.
Filed under: Uncategorized