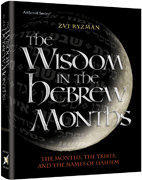 What does Rosh Chodesh, the beginning of the new Jewish month, mean to us? When we were in school it meant an assembly or a special treat. Then we grew up, and now, for most of us, the only difference between Rosh Chodesh and an ordinary day is in the prayer service. That's not the way it used to be. In the days of the Temple, Rosh Chodesh was marked by special sacrifices, the sounding of horns, and celebratory feasts.
There are still some places where Rosh Chodesh is celebrated with a festive meal, songs, and divrei Torah. One such place is Los Angeles, where a group of LA businessmen meet every month to mark Rosh Chodesh.
Tzvi Ryzman is one of the founders and mainstays of this group. A Torah scholar who shares his Torah wisdom with thousands through his lectures and sefarim, Mr. Ryzman is the winner of the prestigious Jerusalem Prize for his Torah work, Ratz K'Tzvi. He is also a well-known figure in business circles, and a supporter of many Torah institutions; the personification of the concept of "Torah v'gedulah," Torah and business success.
One of the delights of these Rosh Chodesh gatherings are Mr. Ryzman's profound and yet accessible talks. Now, readers can share his fascinating insights in his remarkable new book, The Wisdom in the Hebrew Months, which opens to us a new world of Torah wisdom and scholarship.
In the first part of the book we examine the connection between each of the twelve Jewish months to one of the twelve tribes, giving us a new understanding of both the power of the month and the essence of the tribe. The second part of the book looks at the esoteric relationship between the months and different combinations of Hashem's Holy Name.
Drawing on the full breadth of Talmudic, Midrashic, Rabbinic, Kabbalistic, Chassidic and Mussar literature, the author sheds new light on the relationship between the months of the year, the tribes, and the ways that Hashem relates to His people.
In his Introduction, Tzvi Ryzman tells us, "Rosh Chodesh can uplift us, it can refresh and inject vigor into our service of Hashem." The same can be said of this beautiful and important new book.
Filed under: Uncategorized