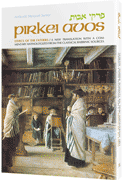 Millennia before self help books and life coaches were part of our vocabulary, the Jewish Sages were giving us their wise advice on how to lead moral, ethical, and fully developed lives — in Pirkei Avos, Ethics of the Fathers. The amazing thing about Pirkei Avos is that its ancient words speak as well to us today as they did two thousand years ago –  to children and parents, husbands and wives, teenagers and octogenarians.  Pirkei Avos takes us through all our life cycles, helping us meet our challenges, deal with our questions, and make the tough choices that often confront us.
 If Pirkei Avos is the generator that powers our life choices, the commentaries that have been written are the transformers that enable us to adapt and implement them to our personal circumstances. Both classic and modern commentators look at the words of Pirkei Avos, explain their many meanings, and show us how to apply them to our lives today.
 Jewish communities study Pirkei Avos on the long Shabbos afternoons of the spring and summer.  ArtScroll offers a rich collection of Pirkei Avos commentaries, for every age and interest. Here's just a sampling:
 The ArtScroll Pirkei Avos by Rabbi Meir Zlotowitz: The classic edition, with a flowing translation and a clear, concise commentary.
 Visions of the Fathers by Rabbi Abraham J. Twerski, MD:   This bestselling author shows us how to take the lofty ideas of the Sages and bring them into our everyday lives. Brimming with provocative ideas and interesting anecdotes.
 Pirkei Avos: Sfas Emes and other Chassidic Masters: The brilliant and original ideas of the Sfas Emes, augmented by the insights of dozens of Chassidic masters, blended into a flowing commentary.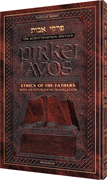 Maharal on Pirkei Avos:  Maharal is the inspiration for many modern schools of Torah thought. This work clarifies his complex ideas and opens a window into the thought-world of one of Judaism's most influential thinkers of the last five hundred years.
 Sforno on Pirkei Avos: A gem of a work by one of the great Torah commentators, whose 15th-century worldview is remarkably relevant to today's world.
 The Schottenstein Edition Interlinear Pirkei Avos: ArtScroll's patented interlinear translation enables the reader less familiar with Hebrew to study Pirkei Avos word by beautiful word.
 After the chulent, and after the Shabbos nap, it's time to sit down with "our fathers" and learn how to live better lives. It's time for an ArtScroll Pirkei Avos.
Filed under: Uncategorized