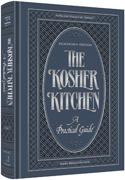 Since its publication 15 years ago, Rabbi Binyomin Forst's classic work, The Laws of Kashrus, has become a fixture in tens of thousands of homes, the English-language book of choice for people trying to understand the complex laws of kashruth and how they are implemented in today's world. It was a scholarly, authoritative work. Now, in his new book, The Kosher Kitchen, Rabbi Forst gives us a hands-on, clear and practical guide to kashruth, as user-friendly as a good cookbook.
As a community rabbi in Far Rockaway for more than thirty years, Rabbi Forst has fielded thousands of kashruth questions. Those questions made him realize the necessity of a practical guide for the general public. He saw that many of the questions he was asked were the result of people's ignorance of basic principles of halachah. By explaining these principles in a clear and concise manner, many problems could be avoided. Another goal was to educate the public to present their kashruth question intelligently, so they could provide the rabbi with all information he needed to give the proper answer.
The result of five years' work, The Kosher Kitchen is a tour-de-force, a beautifully organized and magnificently-designed book, close to 600 pages of vital information. Every chapter includes a basic introduction, a clear outline of the relevant laws, practical applications, and stimulating and fascinating questions. In its pages we find everything we need to know about eating kosher: from microwaves and barbeque grills to meals cooked by non-Jewish housekeepers; from shechitah to sushi, from pet food to Passover kitchens – and everything in-between.
A newly-observant Jew wants to know what he can, and can't, eat in his parent's home. Can a business traveler buy a cup of tea in a non-kosher restaurant? What can I kasher in my kitchen for Passover, and what must be covered or replaced?  It's all here, as beautifully set out as a table in a five-star hotel, as clear as Grandma's chicken soup.
We put a lot of work into setting up our kitchens. We buy food processors and garlic presses and corkscrews and non-stick pans, all the tools necessary to make our cooking efficient and pleasant. Now, here's another useful – no, vital – kitchen implement: The Kosher Kitchen.
Filed under: Inside ArtScroll Weekly