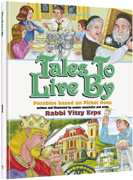 Talking to Rabbi Yitzy Erps is quite an adventure. Who else but this incomparable storyteller will punctuate his animated conversation with the sound of a beating heart, a stormy night, a five-year-old asking for his afikoman present or Eisav demanding lentil soup from his brother Yaakov?
Blessed with innate talent in art and the unusual ability to mimic voices and sounds, Rabbi Erps used these gifts throughout his more than 30 years in Jewish education. Some years ago, he became a "rebbe" not only to his own students, but to thousands more, through his popular children's books, Tell Me a Tale, Volumes 1 & 2. Now, in his newest book, Tales to Live By, he brings his trademarks – the funny stories, the unforgettable characters, the lively illustrations – to the ultimate Jewish teaching tool, Pirkei Avot
Each of the stories in Tales to Live By takes a message from Pirkei Avot and illustrates it in contemporary terms that children can relate to.  When writing his stories, Rabbi Erps says, he always begins by asking himself a question: "What lesson can I bring out?" He then adds his secret ingredient: humor. With the fertile imagination of the born artist, he then envisions his characters. Perhaps it will be Duvi, the klutzy delivery man, whose falling boxes will teach a lesson in why even small mitzvahs are important, or maybe the noble Prince Albert, who hobnobs with the peasants and brings Rebbe Yehuda HaNasi's wisdom to life. Finally, with the lesson, the jokes, and the characters all set, he's ready to fill in the details of the story, with every word carefully chosen to entertain – and to teach.
As an artist who illustrates his own books, Rabbi Erps is able to bring his vision to vivid life. His pictures – whether the cartoon characters of Tell Me a Tale, or the more realistic personalities of Tales to Live By — seem to jump off the printed page and into a child's life.
Rabbi Erps is lively, fun, entertaining – and  very, very wise. And so are his Tales to Live By.
Filed under: Inside ArtScroll Weekly