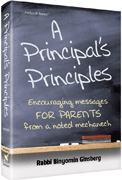 Rabbi Binyomin Ginsberg, Dean of Torah Academy in Minneapolis, is a creative and caring educator who is regularly consulted by Torah educators worldwide. In his new book, A Principal's Principles, Rabbi Ginsberg is the teacher, and we parents become the students. We recently discussed parenting issues with Rabbi Ginsberg. Here are some highlights of the interview:
ArtScroll: You have a national, even an international, view of today's children. What would you say are the greatest priorities of today's parents?
Rabbi Ginsberg: As molders of children we have an obligation to make an on-going effort to listen to the spoken and silent messages of our children.  We have to make it possible for them to have a voice and to be heard. We have to be careful with their feelings. We have to think about how to make our schools happy places for them.  There is so much that can be accomplished with a foundation of happiness and we need to make sure that our children are being raised in a happy setting.
AS: Not an easy job, nowadays.
RG: A wise person once said that parenting is the most difficult position there is and the one that we receive the least amount of training for. Being a parent is an awesome job and responsibility.  It is also the greatest title one can have.
AS: What led you to write A Principal's Principles?
RG: The book began as a result of articles I wrote for my parent-body, in our weekly newsletter.  The feedback I received from those articles was that I was brave to address issues head-on.  Later I was invited to write a parenting and education column for Yated Neeman.  While the book is not a simple compilation of the articles I wrote, they were the springboard for the book.  When I learned that people were clipping my weekly articles into a scrapbook, I decided that writing a book might be a good idea.
As I wrote I stayed focused on the idea that this not be just another parenting book.   It does not provide a list of dos and don'ts.  Instead, it shares what I believe to be critical steps we must take to respond to the current needs of our children. 
The focus of A Principal's Principles is to make the lives of our children better.  Parents and teachers have the awesome responsibility to guard and protect the treasure Hashem has placed in their hands.
Filed under: Inside ArtScroll Weekly