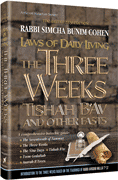 For many of us, summer's arrival means the annual trek to "the country."  The hot New York sidewalks grow deserted, and traffic on Route 17 starts backing up.
As we tie the Big Wheels to the top of the minivan and throw in still another carton of Gushers for the kids, our thoughts are on pleasant things: swimming pools, barbeques, inspiring shiurim on long Shabbos afternoons. But for the Torah-observant Jew, summer also brings with it a somber time: the Three Weeks, beginning with the Fast of the 17th of Tammuz and culminating with Tishah B'Av.
Those who mourn the Destruction of the Temple, our Sages tell us, will merit to rejoice in its rebuilding. A beautiful thought, but in practical terms, how are we supposed to mourn something we've never seen? And how, especially in the carefree summer months, are we supposed to feel true sadness for our loss?
ArtScroll offer two new books to ensure that the Three Weeks are meaningful to us.
In The Laws of Daily Living: The Three Weeks, Tisha B'Av, and Other Fasts renowned author and posek Rabbi Simcha Bunim Cohen examines the laws of fast days (except Yom Kippur), the restrictions of the Three Weeks and Nine Days, and the climactic mourning of the Tishah B'Av fast. The book is enriched by a discussion of the Temple's role in our lives and the events that led to its destruction, based on the teachings of the author's grandfather, Rabbi Avigdor Miller zt'l.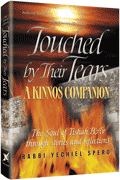 In Touched by Their Tears: A Kinnos Companion, bestselling author Rabbi Yechiel Spero explains carefully selected Kinnos and illustrates their message with powerful true stories that bring them to life. We read of the soldier left for dead in a forgotten corner of Vietnam, the Ponovezher Rav's message to the only surviving child of the Kovno Ghetto, and the boy who left everything behind in Iran to learn in Eretz Yisrael. We practically hear the song of 400 children as they prepare to die to sanctify G-d's Name. In these gripping stories we learn how to mourn – and we learn how to hope.
As we prepare for our summer's fun, we also prepare for the remembrance and mourning that will one day lead to the fullest joy – the joy of rebuilding the Temple.
Filed under: Uncategorized