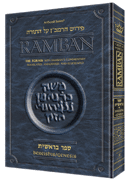 Rabbi Moshe ben Nachman, Ramban (Nachmanides), wrote what is considered the most important commentary on the Chumash after that of Rashi. But as brilliant as it is, as important as it was in the development of Jewish thought, for many English speakers it remained, quite literally, a closed book –  inaccessible because of the author's concise style, his frequent and sometimes obscure allusions, and his classical Hebrew, which was difficult even for those well-versed in the language. Those who courageously delved into the Ramban tended to focus on certain well known pieces, but the commentary in its entirety was rarely studied, even by the Torah-observant public. 
With the publication of the first volume of ArtScroll's Ramban on the Torah five years ago, the closed book began to open wide for the English-speaking public, and tens of thousands of readers discovered the magnificence of Ramban's thought. To convey Ramban's commentary required an international team of Torah scholars: translators, editors, and readers who ensured that the final product was both faithful and clear. The translation followed the innovative and enormously successful style of the Schottenstein Talmud and the Sapirstein Rashi: an original Hebrew phrase, followed by a literal English translation in bold-face type, followed by an "elucidation" that explained in greater detail just what the words were meant to convey. In addition, most paragraphs are preceded by an "introductory comment," that introduces the reader to what Ramban is trying to tell us.
In the past five years, six volumes of this extraordinary work have been issued: two on Sefer Bereishis, two on Sefer Shemos, one on the entire Sefer Devarim and, the most recent, one on the entire Sefer Bamidbar. (The final volume, on Sefer Vayikra, is in preparation, and will be available next year.)
In the weeks to come, as the Torah portions of Sefer Bamidbar and Sefer Devarim are read, thousands will gain new insight into the words of the Chumash, as they learn – and, yes, understand – the immortal words of Rabbi Moshe ben Nachman, through the pages of the ArtScroll Ramban on the Torah.
Filed under: Uncategorized