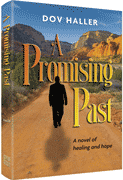 "Rebbe," the sulky young man said, avoiding his teacher's eyes, "you talk about teshuvah, you say a person can change, but you don't really believe it. You think Yom Kippur only works for you, not for anyone else."
Dov Haller, a young teacher in a New York high school realized, with a start, that his angry student was correct.
This teenager was sulky, but he was also observant. He'd noticed the look on Rabbi Haller's face when the name of a certain student who'd been caught shoplifting some years before was mentioned. Though the student had confessed and had changed his ways, the memory of his lapse was still following him, as the boy's astute friend realized. "It's all about labels," he told Rabbi Haller. "You mess up once; you keep the label forever."
Years later Rabbi Haller, now a bestselling author, remembered the scene and, with the courage to tackle sensitive issues that characterizes him, decided to examine the problem of stigma and labeling. A Promising Past, Dov Haller's newest novel, centers around Ezzy Markstein, who, like that real-life student so long ago, "messed up" once – and cannot live down his failure.
The best fiction comes when imagination meets reality, when a core of truth combines with the novelist's eye and pen. Rabbi Haller incorporates true personalities and events even in his wildest flights of imagination – and that's makes his novels so readable.
This same combination of reality and imagination fuels another can't-put-down novel:  The Network by Nachman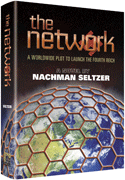 Seltzer. At first glance the two books couldn't seem more different: A Promising Past takes place in contemporary Torah-observant society, The Network's non-stop action travels the globe, involving neo-Nazis, Mossad agents, yeshivah students and the Vatican. And yet in The Network, too, there is that core of truth.  "The Network is about what is happening all around the world," says Nachman Seltzer. "Anti-Semitism is real.  The question I'm trying to answer is: Where does it begin?" Though the plot twists leave the reader breathless, Rabbi Seltzer insists that he's reflecting reality. "People think it can't happen," he says. "If I would have told you that a few Arabs in planes would bring down the World Trade Center, no one would have believed that either. Events like these can happen – and sometimes do."
A Promising Past and The Network: two very different novels that combine reality and imagination to create unforgettable reading experiences, perfect for summer reading!
Filed under: Inside ArtScroll Weekly, Uncategorized