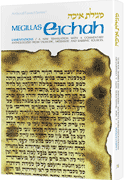 There is no tragedy in the history of the world that has been marked for so long, by so many, and with such depth of feeling, as the destruction of the  Temple. Year after year, generation after generation, exile after exile, the Jewish People have remained faithful to the memory of the Temple and the mourning that marks its two destructions.
ArtScroll offers a large selection of books and tapes that help us today, more than 1900 years later, understand and mourn this greatest of losses – and anticipate the rebuilding that awaits us. A sampling:
The ArtScroll Kinnos: If anything captures the tragedy of the Churban, it is the Kinnos, the elegies composed to lament the Temple's destruction. This translation and commentary makes the Kinnos accessible and meaningful, and includes the full prayer service for the entire Tisha B'Av, with every part of the service in its place – like a "machzor" for Tisha B'Av. 
Kinnos for Tisha B'Av, 2 CD set, by Rabbi Yisroel Reisman. The famed author, rav and popular lecturer explains the Kinnos in his own inimitable style.
The ArtScroll Eichah (Lamentations) translated and with commentary by Rabbi Meir Zlotowitz: Written by the prophet Yirmiyahu, the heartbreaking words of Eichah touch our hearts and spirits. The flowing translation and illuminating commentary, drawn from Talmudic and Rabbinic sources, with an Overview by Rabbi Nosson Scherman, captures the beauty and tragedy of the original. One of the first works ArtScroll ever published, this became an instant classic.
Tisha B'Av: Text, Readings, Insights by Rabbi Avrohom Chaim Feuer and Rabbi Shimon Finkelman: An inspiring collection to enrich the day, this classic work includes historical background, insights into the Churban, and selected laws and customs.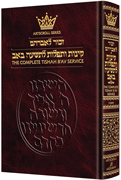 Rav Schwab on Iyov: Though most Torah study is forbidden on Tisha B'Av, Sefer Iyov, the Book of Job, may be learned, as its theme of human suffering makes it especially appropriate for this day of Jewish pain. Rav Shimon Schwab, zt'l, one of the foremost Torah scholars of his day, explains the profound words of Iyov in terms we can all understand.
Tisha B'Av with Bina, Benny, and Chaggai Hayonah by Yaffa Ganz: A beloved children's author introduces young readers to Tisha B'Av, giving them an understanding of the Beis HaMikdash that we lost and the Redemption we all await. With lovely four color illustrations and charming characters that educate as they enchant the children.
Filed under: Uncategorized