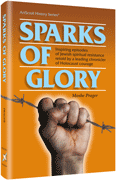 Many people find the days leading to Tisha B'Av a fitting time to study and reflect upon the Holocaust, the terrible churban of contemporary times.  Certainly, books on the Holocaust place us in the somber, mournful mood so appropriate to this sad season. But more: while difficult and often heart-wrenching, many accounts of the Holocaust can give us the strength to deal with Jewish suffering. We cannot comprehend the tragedy, but we can gain inspiration from the greatness that many Jews showed in the face of their ordeals.
ArtScroll/Mesorah has a large number of books dealing with many different facets of the Holocaust. Just a small sampling:
Sparks of Glory: This groundbreaking work was published decades ago, and has just been re-released after being out of print for many years. As timely now as it was upon its first publication, it is a compilation of incredible tales of spiritual heroism told by survivors in the DP camps directly to the author, Rabbi Moshe Prager. The original Hebrew was published before the Eichmann trial, at a time when Holocaust victims and survivors were looked upon as "sheep going to the slaughter"  – to be pitied, perhaps, but not respected. This work was one of the first to show the spiritual strength and resistance that Jews exhibited under the most horrific conditions.
Live, Remember, Tell the World: The author, Leah Kaufman, was only nine when she and her family were driven on a death march. Somehow she lived, and, all alone, remained true to her parents' faith in Hashem and love of His  Torah. An inspiring, almost unbelievable memoir.
Shoah: A Jewish Perspective on the Holocaust: Two distinguished Torah scholars, Rabbis Yoel Schwartz and Yitzchak Goldstein, took on the daunting task of dealing with the hashkafah of suffering, as seen through the prism of the Holocaust. A truly remarkable work of Jewish thought.
.
Filed under: Uncategorized