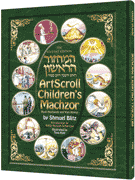 Rosh HaShanah. Mid-morning. Stillness descends upon the congregation, broken only by the powerful yet trembling voice of the chazzan as he begins the sacred words of the timeless prayer, "Unesaneh Tokef."
And then little Dovi crunches on his pretzels.
It's not easy, being a youngster in shul. You don't know what the words mean. You don't understand why all the big people look so sad (though, after being told for the third time to sit still, you're feeling pretty sad yourself…) You finished the snacks that were supposed to last you through lunchtime in the first fifteen minutes, and now you're bored, bored, BORED!
Unless your parents were wise enough to give you The Elefant Edition ArtScroll Children's Machzor for Rosh HaShanah and Yom Kippur by popular children's author, Shmuel Blitz.
Shmuel Blitz began his career as an author by putting kids to sleep. His Bedtime Stories for Children series, which debuted 13 years ago, was hailed by tens of thousands of parents and their children, and "Blitz-at-bedtime'' became a recognized phenomena in Jewish homes throughout the world.
But if the carefully chosen stories, short format (beautifully suited to a tired child's attention span), and entertaining illustrations of the Bedtime Stories was the perfect way to put a child to sleep, what could keep that same youngster awake, alert, and engaged during the hours he or she would spend in shul? How could the beauty of Jewish prayer be conveyed in a way that a young child would most appreciate?
Using his popular, kid-friendly format, that had been so successful, Shmuel Blitz created the ArtScroll Children's Siddur. For the first time, youngsters had a siddur designed especially for them. It contained eye-catching illustrations, translations that they could understand, and fun facts and "did-you-know's" that entertained as they educated. The Children's Siddur – and the Children's Hagaddah, Megillahs, and Tehillim — became a beloved part of school, home, and, particularly, the shul experience.
And now, finally, youngsters can enrich their Rosh HaShanah and Yom Kippur davening as well, with the newly-released Elefant Editon ArtScroll Children's Machzor. The machzor has all the features children have learned to love: wonderful pictures, age-appropriate translations, and fascinating facts. Children will learn why we blow shofar, what the simanim stand for, and what Yom Kippur really means. They will follow along the major prayers. Most important of all, children – yes, even "little Dovi'' –  will develop warm and positive feelings for the tefillos and for shul, feelings that will stay with them long after they've grown up.
Filed under: Inside ArtScroll Weekly