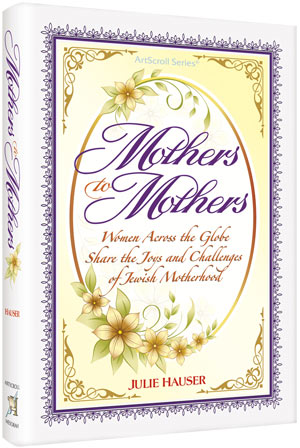 In Mothers to Mothers, author Julie Hauser looks at mothering through the eyes – and voices –  of thirty different mothers, as well as experts in chinuch and childrearing. Below, Julie talks about how this remarkable new book came to be:
As part of my studies, I participated in a research project focusing on mothering. My task was to interview two Orthodox Jewish mothers with more than five children each.  I was a newlywed with no idea how rich the mothering experience could be.
One of the women, a rebbetzin, said that when she was a young mother she enjoyed camaraderie with women her own age, but for serious advice she looked to older, more experienced mothers who had already been there. That observation planted a seed that didn't begin to take root until I became a mother myself.
I'd looked, but couldn't find books about the experience of being a frum mother. I found excellent Jewish books about discipline, chinuch, communication, etc. But there was nothing about the identity of the Jewish mother. The secular books available were incomplete without Torah hashkafah, without an understanding of our unique culture, and without a spin of positivity and Jewish growth. I enjoy listening to people and I have access to a large variety of people.  So I took on the challenge to write a book like that myself!
The interviews:
I really loved the moments when I saw women begin realizing things about their own selves, and watching them appreciate themselves in new ways, prompted by the thoughts my questions spurred.
 
I loved hearing the hashgachah pratis stories, and I loved joining other women in their homes, following them around while they made rugelach, folded laundry, prepared for Pesach, or just sipped tea in their homes or mine. I felt like a fly on the wall, a fly with a mission.
What surprised me most was that certain people whom I would have never suspected told me they experienced PPD- postpartum depression. Out of more than 30 women whom I interviewed, 4 of them told me they had experienced it! That's a pretty high percentage. That's why I felt it necessary to include the separate section on PPD, including their personal accounts as well as resources for help for the condition.
 
Putting this whole book together has been an absolute pleasure, eye-opener, and huge growth vehicle for me, both as a mother and as a Jewish woman.
Filed under: Inside ArtScroll Weekly, New Releases