As I sit on my living room couch enjoying the incredible pictures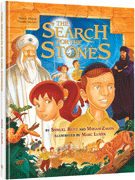 in Shaar Press's newest book for young people, The Search for the Ston
es, I'm struck by the vivid sense of life in each of its full color illustrations. The artistry and brilliance of animator and artist Marc Lumer gives each picture a feeling of motion; it's almost as if the characters are going to step off the page and sit down right next to me.
And on this stormy Jerusalem day, with my imagination slightly in overdrive because of the deep fog enveloping the city, Ari Goldreich, the young hero of The Search for the Stones, does just that.
He takes a chair, this fictional young man of about ten, with reddish brown hair, a black yarmulke, and a determined chin. We talk of his adventures. They begin in Jerusalem, at the Western Wall, when Ari and his younger sister, Ilana, meet a mysterious man in white. This man will send the Goldreich children on an amazing quest, a quest that will take them through time and space.
"What was the scariest part of the story?" I ask him.
"When I was captured by the evil man in the purple cloak," Ari answers. "I was all alone in a dark cave. But I deserved it, because I got greedy, and I had to learn something about myself, and about good and evil and the power of teshuvah."
Actually, learning lessons is what Search for the Stones is all about. Its co-authors, Shmuel Blitz and Miriam Zakon, make clear from the outset that the book is a parable, a moshol brought in the best traditions of chinuch to teach lessons and values. But those lessons – in bitachon, in loyalty and friendship and many other values – are found in a story that will keep young readers, ages 7 – 12, enthralled. 
Ari is getting restless. He's an adventurous young man, and is probably wondering when he can get back into the pages of his book and resume his quest. But I insist on asking one more question.
"What was the most amazing place you visited?"
Ari stops to think. Was it Spain during the days of the Inquisition? Panning for gold nuggets during the Gold Rush? Seeing Jerusalem during the times of the Beis HaMikdash was certainly a thrill, and chasing Nazis in the Brazilian rain forests was an exciting adventure.
Ari smiles. "All of them!!!" he says.
Filed under: Book Reviews, Books, Uncategorized