The Laws of Shabbos: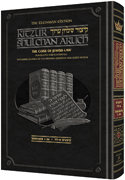 The Kleinman Edition Kitzur Shulchan Aruch, Volume 3
Written in 1864, reprinted more than twenty times in the lifetime of its author, Rabbi Shlomo Ganzfried, and hundreds of times since, the Kitzur Shulchan Aruch is one of the most widely disseminated halachah sefarim of all time. It is a masterpiece of clarity, comprehensive and yet highly accessible, the classic guide to the laws of daily living for Ashkkenazic Torah-observant Jewry – and as usable and relevant today as it was 125 years ago.
With the publication of the first volume of the The Kleinman Edition Kitzur Shulchan Aruch last year, the timeless words of the Kitzur became widely available to the English-speaking public. Many thousands were introduced to the sefer for the first time, while others, scholars and laymen alike, were able rediscover its beauty, clarity, and, yes, the depth behind its simplicity. Using the integrated style of ArtScroll's Schottenstein Edition of the Talmud, the Kleinman Edition of the Kitzur Shulchan Aruch offers readers a fully vowelized Hebrew text, followed by a phrase by phrase translation and elucidation. To make the Kitzur even more useful as a contemporary halachic reference, the footnotes include rulings from the Chofetz Chaim's halachic classic, Mishneh Berurah, and from Rav Moshe Feinstein's Igros Moshe, whenever their rulings differed from those of Rav Ganzfried.
The third volume of what will be a five-volume set has just been made available, and is a particularly exciting and important part of the work, as it contains all of the laws of Shabbos observance that appear in the Kitzur.  Here are the halachos that affect every Shomer Shabbos Jew, as clearly and beautifully laid out as the most elegant Shabbos table – the "shulchan aruch" –  the set table –  that Rabbi Ganzfried and, before him, Rav Yosef Karo used as the title of their great halachic works. This newest volume is a vitally important work for anyone wishing to review or better understand the laws of Shabbos observance (Also included are the laws of eiruvin, rosh chodesh, and kiddush levanah.)
Writers of promotional pieces love to use the word "classic." It's one of those catchwords that are applied to almost everything today. But what, really, makes something a classic?
The dictionary tells us that a classic is: "an author or a literary work of the first rank, esp. one of demonstrably enduring quality."
Enduring quality. By that definition, the Kitzur Shulchan Aruch is most certainly a classic. One that belongs on every Jewish bookshelf.
Filed under: Uncategorized