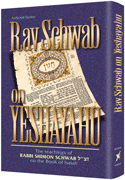 Rabbi Moshe Schwab, eldest son of Rav Shimon Schwab zt'l, has adapted his father's shiurim into the written word, bringing their wisdom and insight to tens of thousands of readers in Rav Schwab on Prayer, Rav Schwab on Iyov and the recently  published Rav Schwab on Yeshayahu. Here are Rabbi Moshe Schwab's memories of his illustrious father and his thoughts and insights on his books.
"My father zt'l taught his congregants almost all of Tanach in his Sunday morning series of shiurim during his 37 year tenure as Rav of K'Hal  Adas  Jeshurun of Washington Heights. Fortunately, most of these shiurim were audio-taped, so I had a treasure-trove of material from which to work. I selected Father's shiurim on tefillah as the first to be adapted, in Rav Schwab on Prayer, because these were his last public shiurim and represented his final interpretation of the meaning of our tefillos.
"As my next project,  I selected  Father's shiurim on Iyov because of its treatment of the  classic  dilemma  of the  suffering tzaddik, and my father's  highly  insightful and unflinchingly human, yet emunah-based, treatment of it. He often talked about this problem. In the shiurim on Iyov, my father's deep-seated, unshakeable faith in the truth of God's judgment comes to the fore. 
"Next, I selected Yeshayahu because of my father's understanding of the timeless messages of this greatest of our Neviim Acharonim, and his interpretation of them as they relate to our times. Another reason I selected Yeshayahu was because in these shiurim my father wove his vast knowledge of Jewish and world history into the context of the prophecies of Yeshayahu, making them more readily understandable.
"As I listened to my father's rich voice on the tapes, his voice rising or falling, emulating the Navi's emotions as he alternated between powerful blasts of condemnation and touchingly beautiful promises of a blissful future for the Jewish people, I transferred these into a literary style which I believe my father would have used had he written his thoughts instead of articulating them in lectures. I chose style and language that were both easy to follow and true to the intent of my father. I wanted my father's voice to come through, so that those who knew him and heard him could read the text and imagine hearing him speak the words that they were reading."
Filed under: Author Interviews, Authors, Book Reviews