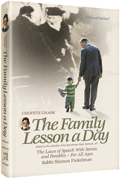 The shemiras halashon revolution began in the town of Radin, with the writings of Rav Yisrael Meir Kagan, zt'l: Sefer Chofetz Chaim and Sefer Shemiras HaLashon. Decades later, the Manchester Rosh Yeshiva, Rav Yehuda Zev Segal zt'l, suggested that his talmidim study the laws of shemiras halashon, of guarding one's tongue from forbidden speech, on a daily basis, following a set calendar. This daily cycle of study – which Rav Segal called "my passport to olam haba" – became accepted throughout many yeshivas.
Then, in 1989, with the inspiration and active participation of Rav Segal, the Chofetz Chaim Heritage Foundation was founded. Working together with ArtScroll/Mesorah Publications, they launched the daily study of these laws in hundreds of thousands of homes through the bestselling books, A Lesson a Day and Chofetz Chaim: A Daily Companion.
And now – just in time for the new cycle of shemiras halashon study, which begins on Rosh Chodesh Shevat (January 16), comes the next step in the revolution: The Family Lesson a Day.
Rabbi Shimon Finkelman, coauthor (with Rabbi Yitzchak Berkowitz) of A Lesson a Day, speaks of his newest book, The Family Lesson a Day: "The past few summers in Camp Agudah I delivered a daily fifteen minute shiur in Sefer Chofetz Chaim for senior campers and staff. I endeavored to spice each lesson with stories and parables that bring the laws to life and show their relevance today. I thought a book of this style would be appreciated by all ages, and I embarked on the project. The book follows Rav Segal's calendar. Each lesson is based on Sefer Chofetz Chaim, with a sidebar that has an inspirational excerpt from Sefer Shemiras HaLashon."
 A CCHF staffer explains the goals of this newest work. "We wanted a book that would appeal to youngsters, to teens, and to the oldest members of the family. One with stories to inspire, explain, and enlighten, so that a parent could easily read it together with the children at a supper table. What Daf Yomi study is for men – shemiras halashon study is for families. This is the easiest way to bring the blessing of shemiras halashon to the family."
Tens of thousands have already felt those blessings – in improved relationships, greater shalom bayis, and in the abundant berachos promised to those who are careful in their speech. Now the entire family can together bring these blessings into the home, with The Family Lesson a Day.
Filed under: ArtScroll In the News, Book Reviews, Books, In the News, Media, Products