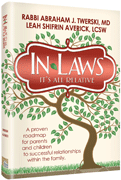 Mazel tov! The happy chosson beams, the kallah glows – a new Jewish home is being created.
Also being created are: a new son-in-law, daughter-in-law, mother-in-law, father-in-law and two sets of mechatunim.
Wow. New home. New relationships. And a whole set of new challenges.
Leah Shifrin Averick knows all about those challenges. The Chicago-based social worker remembers, "When I became a mother-in-law I got interested in the dynamics of in-law relationships. I researched the topic by interviewing more than two hundred people from various backgrounds." The research eventually turned into a successful book on in-law relations.
Mrs. Averick approached Rabbi Dr. Abraham Twerski, the famed psychiatrist and author, for a blurb for that book, which he gave. Some years later, they decided to collaborate on a book on in-law relationships for the Jewish world. The result: the acclaimed new book, In-Laws: It's All Relative.
Rabbi Dr. Twerski explains the importance of such a book. "I have seen many cases of marriages that were seriously affected by in-law problems," he says. "I came up with the RESPECT formula. If we exercise Restraint, Effort, Sensitivity, Patience, Empathy, Consideration and Tolerance, many in-law problems can be prevented or resolved."
In-Laws: It's All Relative is a fascinating compendium of Rabbi Dr. Twerski's trademark combination of psychiatric insight and Torah wisdom, together with Mrs. Averick's clinical experience and understanding of the many issues that in-laws – both married children and their parents – must deal with. We learn how unconscious processes might be affecting our in-law relationships and how following the wisdom of Torah teachings can smooth out the rocky paths in front of us. We get practical guidelines in the day-to-day interactions that mark the in-law relationship, and answers to many common questions: What should I call my new mother-in-law? How often should I visit my newly-married son and his wife? How do I deal with mechatunim who have very different ideas of how lavish a wedding our children should have? And, of course, we enjoy the many stories of in-law interactions, both failed and successful, that two top therapists have encountered in their decades of experience.
Excellent in-law relationships, maintain the authors, are possible, and vital. "King David is the great-great grandson of Ruth, the woman who was good to her mother-in-law," Mrs. Averick reminds us. "From this woman shall come Mashiach ben David. Out of that seed of kindness and understanding shall come forth peace."
Filed under: ArtScroll In the News, In the News, Inside ArtScroll Weekly, Media