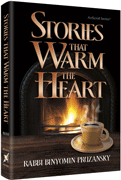 Did you hear the story about the rebbe who became an open-heart surgeon without ever going to med school?
Okay, not quite. The rebbe is Rabbi Binyomin Pruzansky. And while he's not actually putting in stents and pacemakers, he has been opening the hearts (not to mention touching the emotions and elevating the spirits) of the tens of thousands of readers of his Stories for the Jewish Heart series.
We caught up with Rabbi Pruzansky and spoke to him about his newest collection, Stories that Warm the Heart.
How did you become a storyteller?
I have always wanted to help people realize their potential. As a rebbe I realized that the way to a person's heart is through a great story. A story is a powerful tool. When you hear about a person who overcame a challenge or did something remarkable you begin to realize that you too can overcome anything, you too can reach for the stars. It's relevant, it's real, and it's inspiring.
How do you find those marvelous, one-of-a-kind stories that readers love?
The kind of story I like is one that is different, unpredictable and, of course, heartwarming. As I developed into a published writer and public speaker I found that people opened up to me more. People have so much hashgachah pratis in their lives but sometimes they fail to see it. I encourage people to dig a bit deeper into their lives and see the "Hand" of Hashem.
 Can stories change people's lives?
Absolutely! Many of the stories in this book are personal accounts of people who had a life changing experience. They share how they grew spiritually or realized the power of one person to make a difference, and it imbued them with hope in Hashem and in themselves. When you read this kind of account it inspires you to be a better person, a better Jew. It gives you the power to believe in the incredible heart of Am Yisrael.
Tell us about your newest collection, Stories that Warm the Heart.
The stories are very diverse and speak to the hearts of men, women and teenagers alike. There's a story about Holocaust-era menorah that leads a person back to Yiddishkeit and another about the miraculous answer to an autistic child's prayer. There are stories of at-risk teenagers and stories about gedolim. Am Yisrael is so diverse and so remarkable, and these stories reflect that.
Filed under: ArtScroll In the News, Authors, Book Reviews, Books, Uncategorized