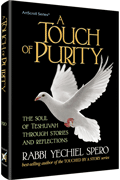 For me, Chodesh Elul came early this year.
It was in the steaming month of Tammuz, and my assignment for the day was to write cover copy for A Touch of Purity, Rabbi Yechiel Spero's new book on teshuvah, repentance.
In the first chapter I read how the great men of previous generations reacted to Elul. This was classic Rabbi Spero: a combination of stories that left me feeling inspired to be the best person I could become together with Rabbi Spero's insights on repentance. Though I had never met Rabbi Spero personally, I felt that I was in the presence of a master teacher, a person who thoroughly understood me, my challenges, my strengths and limitations.
In Chapter 2 I was treated to a Spero-esque (is there such a word? There should be!) combination of personalities and stories: tales of contemporary gedolim, Chassidic masters, mussar personalities, and little-known people who had accomplished great acts of growth. There were mashalim and mission statements, as Rabbi Spero shared the questions we should be asking ourselves in the month of Elul: "Who am I? Who do I want to be? Where am I heading?  What do I want for my children? What do my spouse and I want to accomplish as a couple? As a family?"
By now, I admit (this is, after all, the season for confessions!) I had more than enough material to write the copy, but I read on. I couldn't pull myself away from the engaging stories and from Rabbi Spero's sincere and unabashedly emotional words of chizuk.
Subsequent chapters were just as packed with information and inspiration. I read about the importance of unity and how chesed facilitates repentance and forgiveness. I learned how to recognize, and touch, the "pintele Yid," the essence of every Jew (including me!). Cheshbon hanefesh, always a daunting task in today's non-introspective world, became clearer when viewed through the lens of Rabbi Spero's marvelous stories;  Selichos came to life as I read how Rav Dessler, author of Michtav M'Eliyahu, prepared himself for those beautiful but difficult penitential prayers.
As I finished the book and the copy I had set out to write I knew that, though summer vacation had just begun and "bein hazemanim" was still weeks away, for me, at least, Elul had come. And thanks to Rabbi Spero and his important new book, A Touch of Purity, I would make the most of it.
Filed under: Uncategorized