When defendants stand before a jury, they want the best possible legal representation. And when they stand before the judge for sentencing, they pray for mercy.
On Rosh Hashanah we all stand before the true Judge. As the poignant words of Unesaneh Tokef remind us: "You alone are the One Who judges… who will live and who will die…"  We are awed – but we are not paralyzed. We know there are things we can do to turn the judgment in our favor. "Repentance, prayer and charity remove the evil of the decree!"
We've been examining our lives and deeds, seeking teshuvah, repentance. We've been giving more charity than ever. And, like hundreds of thousands of Jews the world over, on Rosh Hashanah we will use an ArtScroll machzor to help us make our tefillos, our prayers, focused, sincere and heartfelt.
As we await the positive verdict we know we are using the ArtScroll machzor that will help us most effectively daven for a favorable judgment – and a sweet year.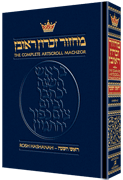 The Classic ArtScroll Machzor: With its lyrical and yet readable translation by Rabbi Nosson Scherman, beautiful graphics, comprehensive directions, and engrossing commentary, this is the machzor that started "the ArtScroll Revolution." Available in Nusach Ashkenaz and Sefard, in hardcover and paperback, in full and pocket size, and in elegant leather binding.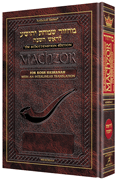 The Schottenstein Edition Interlinear Machzor: The interlinear format is perfect for those who want to follow the Hebrew text but quickly access the English translation. The translation appears directly beneath the Hebrew, with ArtScroll's patented icon gently leading the eyes in the proper direction. Includes full commentary. Available in Nusach Ashkenaz and Sefard, in full and pocket size.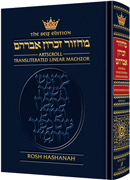 The Seif Edition Transliterated Machzor: The ideal choice for those less familiar with Hebrew, this machzor includes the Hebrew text, with phrase-by-phrase transliteration and translation, and a full commentary.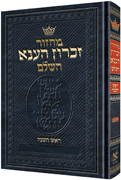 The ArtScroll Hebrew Machzor: For those familiar with the Hebrew text of the prayers, this beautifully typeset machzor is clear and easy to follow. Includes a full Hebrew commentary and a choice of instructions in either Hebrew or English.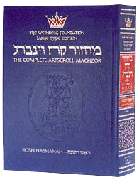 The Large Type Machzor: If you're constantly taking on and removing those reading glasses, this is the machzor for you! With extra-large, clear type, uncluttered pages, and a comfortable, manageable page size.
ArtScroll/Mesorah Publications Ltd. wishes all of our readers, and all of Klal Yisrael, a kesivah v'chasimah tovah, and a happy and healthy New Year.
Filed under: ArtScroll In the News, ArtScroll News You Can Use, Book Reviews, Holiday Related, Holidays