We were all at Sinai together — and now some of us cannot even read the alef-beis.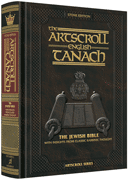 Think about it. More than 80% of American Jews, it is estimated, cannot read Hebrew. If Torah is what defines us, what sets us apart, how can we expect someone who has never heard of Avraham Avinu to become aware of the rich heritage and literature of Judaism?
For fifteen years ArtScroll's Stone Edition Tanach, with its Hebrew text and English translation, has brought the wisdom and beauty of the Torah to the English-speaking world. Hundreds of thousands have studied its illuminating translation and through it have developed a better understanding of the words of Torah.
There are so many Jews, though, who might feel uncomfortable using a Bible that includes the original Hebrew, a language they do not understand. It is for these millions of Jews that ArtScroll has published the ArtScroll English Tanach: The Jewish Bible with insights from classic rabbinic thought.
The English Tanach is drawn from the Stone Edition Tanach, both in the English translation and in much of the commentary, but there is no Hebrew text at all, making it appropriate for Jews who have no Hebrew skills. In addition, there are many enhancements and modifications that make it suitable for the novice. The English Tanach includes biblical reference maps, timelines, and lists of genealogies, as well as a unique "Tanach at a Glance" section to help the beginner. A "Suggested Guide for Further Jewish Study" helps curious Jews learn more about their heritage.
Without true Torah knowledge, Jews are particularly vulnerable to the dangers of assimilation. Moreover, missionaries have budgets of hundreds of millions of dollars – and "bibles" that are designed to push their own agendas. An authentic Bible based on the rabbinical commentaries of two millennia will become an important weapon in the battle against Jewish ignorance and illiteracy.
For those of us blessed with Torah education and knowledge, The English Tanach is a meaningful and effective way for us to gently help our less educated brethren. Whether it is a Jewish co-worker who has shown curiosity about the Torah or relatives who think that bar or bat mitzvahs mark the end of all things Jewish in their lives, The English Tanach can be a life-transforming gift and a non-threatening way to begin our efforts at kiruv.
Filed under: Uncategorized