Just in time for Chanukah, ArtScroll is sharing a download of the complete laws of Chanukah with its readers, selected from the digital version of the Kleinman Edition Kitzur Shulchan Aruch, part of the Wasserman Digital Initiative.
Download instructions:
If viewing this on your mobile device with the app installed, simply click HERE to open the free download in your app.
Or:
Download the free ArtScroll app. (Click here for download instructions for your device.)
Within the app, click on the menu, then click on the second option for the store.
Scroll down to the Kleinman Digital Kitzur Shulchan Aruch and click on the icon.
Look for theoption under "purchase volumes" that says Kitzur Shulchan Aruch Free Sample – Chanukah.
Click where it says free on the right side to begin your download.
The free sample will now appear in your library. You can browse, learn end experience the new features.
Don't forget: all digital volumes are 20% off their already low prices through December 29th.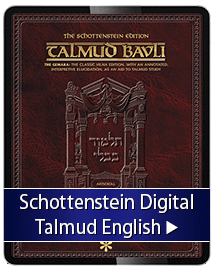 You can now get the entire series of the acclaimed Schottenstein Edition Digital Talmud for $599 – or less! Click here to find out how to get a credit for the volumes you already own.