A Talk with Rabbi Heshy Kleinman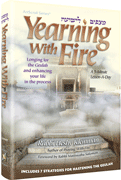 Author of Praying With Fire and Yearning With Fire
 
As I speak with Rabbi Heshy Kleinman, bestselling author of Praying with Fire and Praying with Fire 2 and the newly-released Yearning with Fire, I can tell that he is, indeed, a man on fire himself – blazing with passion for every single Jew, on fire to help Klal Yisrael. Here, he articulates his vision for helping bring the geulah closer.
 
ArtScroll: Praying With Fire changed the way tens of thousands of Jews daven. What are your goals for your new book, Yearning with Fire?
 
Rabbi Kleinman:  Especially in our challenging, tenuos world the goal is to hasten the geulah. I began to think about it after the Merkaz HaRav massacre in March 2008. Everyone said, "Moshiach has to come." Then came the Mumbai terror attack in November 2008. Again: "Moshiach has to come." So what do we do, and how do we do it? What is going to galvanize us? B"H, we had so much success with tefillah; why can't we accomplish it with the geulah? There are many things that each and every person can do to hasten geulah in a very practical way.
 
AS: Such as?
RK: Chazal tell us very clearly what we can do, how to hasten the redemption. In the book we explain the connection certain mitzvahs have to geulah, and give very specific, practical strategies to actualize them.
 
AS: All this, in five minutes a day?
RK: Yes, even while sitting at your dinner table–your soup won't even get cold! Think about Praying with Fire, also a five-minute-a-day program. Over 130 shuls have taken part in the "Shul Tefillah Initiative" in twenty-seven different cities like Philadelphia, St. Louis, Phoenix, Toronto and, of course, Brooklyn and Lakewood. Five minutes a day! A world of difference!
 
AS: Your book talks about strengthening achdus in Klal Yisrael as one of the strategies to hasten geulah. Is that a reachable goal, given all the unfortunate strife among us?
RK: Absolutely! Of course! I'll tell you how: ruchniyus has the power to do this. Torah is called a "shirah," a song. A song is enhanced with harmony, many different notes melding together. There were different berachos given to the twelve shevatim,  – that's the mark of Klal Yisrael. We have to focus on our spiritual source; then we can achieve true unity.  And we can do it!
Filed under: ArtScroll In the News, Author Appearances, Author Interviews, Authors | Leave a Comment »