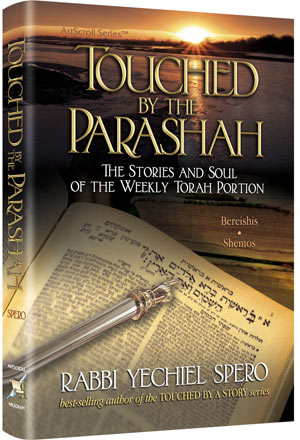 Introducing a new project on the Official ArtScroll Blog: free weekly learning on the week's parshah and other timely topics.
Join us every Tursday on the Official ArtScroll Blog for a free downloadable lesson on the parshah, excerpted from ArtScroll's extensive library. Presented in a convenient PDF format, you can learn it now on your computer, or print it out to learn on shabbos.
This week's lesson is excerpted from best-selling author Rabbi Yechiel Spero's popular Touched by the Parashah. The series is split into Volume I – Bereishis and Shemos, and Volume II – Vayikra, Bamidbar, and Devorim.
Click here for our FREE weekly D'var Torah download: Weekly Learning on the ArtScroll Blog – Parshas Tetzaveh
If you enjoyed the excerpt, you'll love the book:
Click here for exclusive online savings on Touched by the Parashah, Volume I
Click here for exclusive online savings on Touched by the Parashah, Volume II