With Tishah B'Av approaching, we want to help our readers prepare to have a meaningful fast. This week we are sharing two free downloads that will make your Tishah B'Av more meaningful.
Kinnos for the Six Million Kedoshim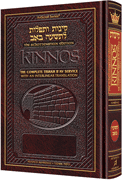 The destruction of the Six Million is our own generation's stark connection to the eternal Tishah B'Av. Two great and inspiring spiritual leaders of our time, The Bobover Rebbe and Rav Shimon Schwab composed Kinnos lamenting and memorializing the unspeakable tragedy. Adopted by many congregations worldwide, these painful laments are read on Tishah B'Av.
A Portion of the Talmud Related to the Destruction of the Temple

On Tishah B 'Av, it is customary to study the interpersonal conflicts which led to the ruin of the Second Temple. One well-known source comes from the Schottenstein Edition…
View original post 56 more words